Kid Kapichi
Kid Kapichi + Nova Twins + Snayx + Joel from Wolf Alice (DJ Set)
Sold Out
Entry Requirements: 16+
Support from Nova Twins, Snayx and Joel from Wolf Alice DJ set.
£6+ BF
Tickets on sale 10am Monday 29th July.
Line Up
Nova Twins Georgia( Bass) Amy (guitar vocals) exploded onto the scene in of 2015 with their first track Bassline Bitch. Backed by BBC Introducing were able to show the Introducing network what they were really about by playing Standon Calling Festival last year. Karrang Radio ' A band that can only come out of London - like noone before them! Georgia and Amy then went to kick down the door of Koko NME and Headlining FTFH (Finding the Next Female Headliner) at Birthdays supported by Amazing Radio Ruth Barnes. Keeping up momentum the Nova Twins went on to support D12 at the O2 and continued on to support Radkey.
               Michael Johnson "Actual Urban dub punk 21st century mutants"                                                                    

Amazing Radio Jim Gellalty " If you see these girls live they'll leave you wanting more"
             Alex Baker Karrang ' Nova Twins are raw and outrageuosly raucous"

       BBC Introducing Ollie Winberg ' Nova Twins are the real deal watch and be inspired"

       BBC6  "The freshess sound coming out of South East London, these girls are ones to watch"

                Amazing Radio Ruth Barnes " Glastonbury Reading and Leeds Watch Out"

Nova Twins - " We want to empower women and liberate anyone who wants to live outside the box society has created for us. Its time to kill the stereo type! Our music doesn't belong to one genre and neither do we!"
Amy and Georgia are set to release their first EP April 2016.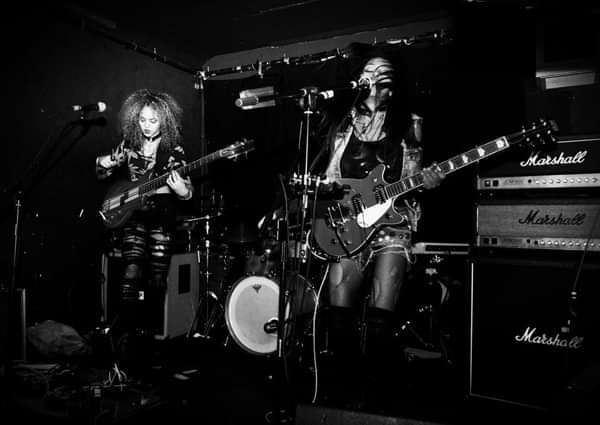 Joel from Wolf Alice (DJ Set)