The Cookie presents:
Kid Kapichi
+ Catholic Action + PROJECTOR
£7.00
Entry Requirements: 14+
Buy Tickets
Line Up
Catholic Action are four young men from Glasgow. Led by 23 year old songwriter and producer, Chris McCrory - the band marry classic pop songwriting, art rock sensibilities and glammed up, melodic guitar playing - before squeezing it all through a slacker-pop filter and making a sound utterly their own. Gestating in the studio, writing and recording their debut album (due September 2015) before playing a live show - they finally appeared on stage in late 2014, immediately selling out their debut EP on their first tour.
2015 has been kind to Catholic Action so far, with numerous 'ones to watch' list inclusions (Including the BBC's Vic Galloway - a strong advocate of the band's music), their first festival bookings and several releases scheduled for the coming months on Glasgow's burgeoning Fuzzkill Records as well as two full UK tours scheduled for both March and May. Catholic Action are just getting started, but already it seems 2015 has a lot in store for this rather eccentric bunch from Glasgow.
A small sampler of the band's music is available here: https://soundcloud.com/catholic-action/sets/catholic-teaser/s-jB8xy
For more music, information and requests please contact catholicaction@hotmail.com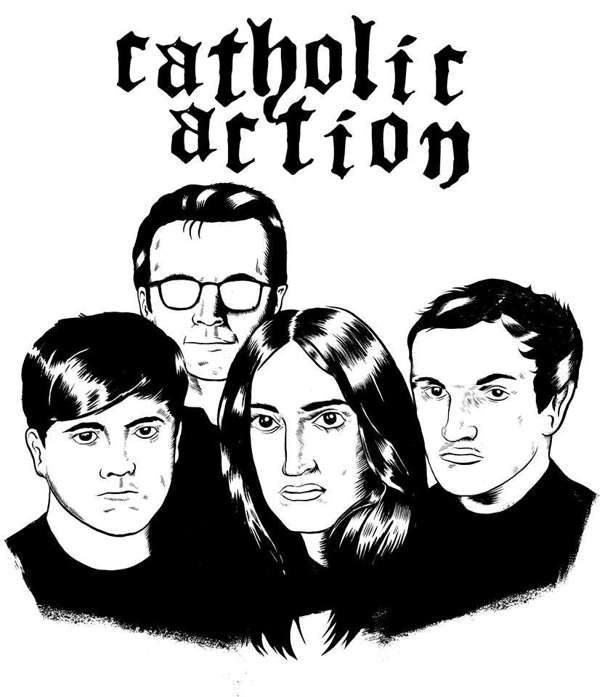 https://www.facebook.com/overheardprojector
Projector appeared in autumn 2015. They have played a string of high energy shows across the South East and are in the process of releasing a video for their debut single, Help Me Be Kind. You can catch them next at the Globe, Feb. 18th alongside ISLA.